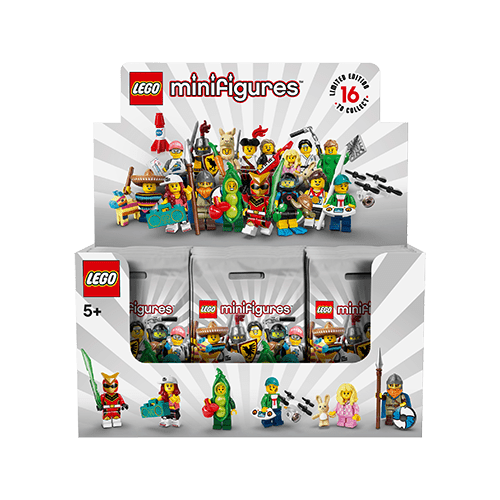 Now that the Series 21 LEGO Collectible Minifigures (71029) have been revealed, let's go back and check out Series 20 (71027) which celebrates the 10th anniversary of the theme. There are 16 to collect and they retail at the $4.99 price point. I know I'm pretty late to this but I haven't reviewed it yet so now is a good time to take a look at them.
---
Pinata Boy
The Pinata Boy has on a plain white shirt and most of the detail goes in the poncho which is made up of two small capes. He wears a new medium nougat colored sombrero to complete his look. His accessories include a colorful pinata and a stick to beat it with.
---
Breakdancer
She has a on a coral colored cropped top which is printed on both sides. The legs are dual molded with some nice detailing which can be useful for other minifigure designs. The head shows her with a smirking expression with coral colored lipstick. The white cap and dark red hairpiece is molded together. Her accessories include a clear angle piece to show her performing moves along with a boombox.
---
Pea Pod Costume Girl
Costumed characters have been a mainstay in the Collectible Minifigures theme and there are a few in this set, the first one being the Pea Pod Costume Girl. Unlike previous characters where the torso is plain, this one has printing of a salad bowl. The large pea pod mold goes over the head covering up the torso. She does have a double-sided head with it showing green lipstick on both. Her accessory is a red apple.
---
Tournament Knight
The knight has on a bright orange and black outfit with some chain printing on the top of the torso. The legs are dual molded with the same color scheme as well. He has a bearded head but you can't really see it because of the bucket helmet covering it up. His accessories include a new sword and a printed shield of a raven.
---
Pirate Girl
She has on a white frill shirt with some belt printing on both sides of the torso. The legs are dual molded with a dark red desig going down it. She has a double-sided head showing smiling and scowling expressions through her gapped tooth. The hat is molded to the hair and there's a red plume that goes in the back. Her accessory is a sword.
---
Space Fan
She has on a long sleeve shirt with printing of the One-Man Spaceship (918) showing on the front. The legs also has printing of some space related things on it. The coral colored space cap is molded on to her black ponytail. She does have a double-sided head with one side showing her wearing safety goggles. Her accessories include a printed 2×3 tile of a rocket and a wrench along with a completed rocket which has a printed NASA logo on it.
---
Llama Costume Girl
There's another costumed character in this set and it features a girl in a llama costume. The torso is tan with some white in the middle while the legs have some hoof printing on the feet. The back of the torso has printing of the zipper for the costume. She does have a double-sided head with a smirk on one side and a smile on the other. The llama headpiece is actually pretty large since it has the llama itself and a hole for the girl's head. Her accessory is a carrot.
---
Viking
He has on an olive green outfit with some brown belt printing on the front of the torso. The back shows a blue cape which is covered up by a larger fabric cape. His face shows him with a short orange beard that is covered up by a new orange beard piece. The helmet is a pretty plain looking one without any decorations. His accessories include a spear and a printed shield.
---
Super Warrior
The Super Warrior is my favorite minifigure from this series as it sort of represents the Super Sentai/Power Rangers characters without infringing on any IPs. He has on a red outfit that has printing on the arms and the legs are dual molded for his boots. The helmet is new that is painted gold and black on the front. His accessory is a green sword that looks really nice.
Martial Arts Boy
The boy wears a white gi with black belt printing which goes down the legs. The head is double-sided with a smile on one side and a determined look on the other. The hairpiece has a center-parted haircut in black. His accessory is a pair of nunchucks with black handles. He kind of reminds me of Daniel Larusso.
Athlete
The Athlete has on a typical track and field outfit with her numbering being 0937 which is LEGO spelled upside-down. The legs and shoes shoes shows a bootleg Adidas sponsor or it could've been a subtle tease to the new Adidas partnership that was recently announced. She has a double-sided head with a smile on one side and a sweating expression on the other. Her accessories include a gold medal that goes around her neck, a javelin, and a discus.
Sea Rescuer
She has on a black scuba outfit with a turtle printed on the torso. The helmet has a trans-blue snorkel mask. Her accessories include a pair of blue flippers, a turtle, and a plant. She also includes the clear angle piece to show her in a swimming motion.
Green Brick Costume Guy
Since the LEGO Collectible Minifigures theme is having their 10th anniversary, the Green Brick Costume Guy is used to represent the mascot of Series 20. The brick mold has been used before in Series 18 with the Blue Brick Costume Boy and the Red Costume Girl but this time. His accessory is a printed 2×2 tile with the number 10.
80s Musician
The musician has on your typical rocker outfit that you would've found in the 80s. The torso shows a white lightning t-shirt under a black leather jacket which also has a nice 80's style printing. He has a double-sided head showing a smile on one side and a singing expression on the other. The hairpiece shows a luscious lock of hair in dark tan. His accessory is a red keytar.
Pajama Girl
The Pajama Girl has on some pink pajamas with bunny printing on the front and back of the torso. The hairpiece is the one that Hermione Granger's hair from the LEGO Harry Potter sets but it is now in yellow. Her accessory is a rabbit doll that is in a new tan color.
Drone Boy
He has on a white t-shirt with a green jacket. There's also some printing on the shirt which is a reference to the Airport Shuttle (6399) logo. The head shows him with a bandaged face and a determined licking expression. His accessories include a printed tile of the drone control as well as a brick-built drone.
Results
Overall, the Series 20 LEGO Collectible Minifigures (71027) is a mixed bag of characters that may not suit everyone. My favorites are the Super Warrior, Space Fan, and the Drone Boy. There are collectors who will keep their collection complete but at $4.99 each, it'll be a bit harder to swallow. I will say that I did request a full box from LEGO to do giveaways in addition to this review but they only sent 16 random bags. Below are the ones I got:
Martial Arts Boy x2
Pinata Boy x2
Llama Costume Girl x2
Drone Boy x2
Pajama Girl x2
Athlete x2
Space Fan x2
Viking x1
Pea Pod Costume Girl x1
As you can see, we obviously didn't get the complete set and barely got over the halfway mark of the set. I did go ahead and purchase a complete set on the secondary market to fully do this review. Like I stated before, there are some really good ones but there are some mediocre ones like the Brick Suit Guy and Martial Arts Boy. This is only my opinion and your preferences may be different.
---
Thank you to LEGO for sending a few minifigures for me to review. The content above represents my own opinion and not the company. Review sets sent in does not guarantee a positive review.
When you make a purchase or, sometimes, carry out some other action as direct result of clicking on a link at The Brick Fan, we will receive a small commission.
The Brick Fan is a participant in the Amazon Services LLC Associates Program, an affiliate advertising program designed to provide a means for sites to earn advertising fees by advertising and linking to Amazon.com. As an Amazon Associate I earn from qualifying purchases.
We partner with Rakuten Advertising, who may collect personal information when you interact with our site. The collection and use of this information is subject to the privacy policy located here: https://rakutenadvertising.com/legal-notices/services-privacy-policy/