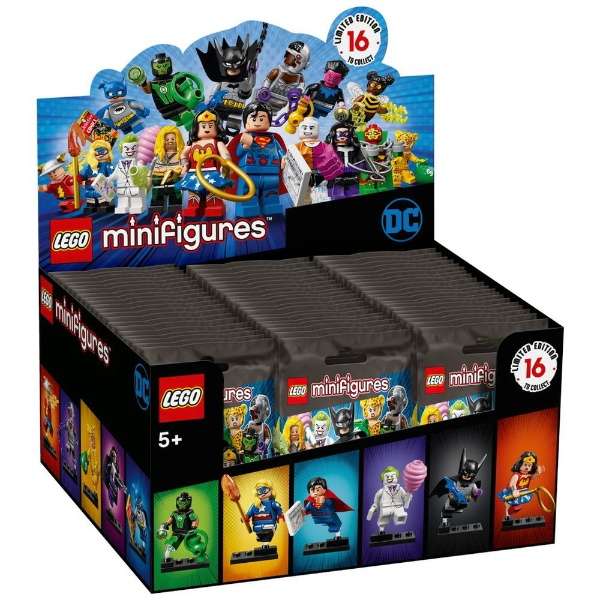 The LEGO DC Super Heroes Collectible Minifigures (71026) has been available for some time now and we've finally got our set in from LEGO to do a review. I will say that it was shipped by LEGO Brand Retail and they did not come in the box but 60 packs were just thrown in a shipping box. This caused a bit of an issue which I'll get to later.
LEGO has offered them for individually for $4.99 each or in a complete box of 60 for $299.40. There's no discount for buying the complete box and the product listing does not say it will come with the box but you'll at least get one complete set. Below is the widely reported box distribution for the box:
3 Per Box
Batman 1st Appearance
Mister Miracle
Classic Sinestro
Teen Titans Bumblebee
Teen Titans Cyborg
Huntress
Bat-Mite
4 Per Box
Simon Baz Green Lantern
Metamorpho
Classic Cheetah
Stargirl
Rebirth Superman
Wonder Woman
5 Per Box
Aquaman
Jay Garrick Flash
Joker
---
Before we get into the review, I want to mention that this set of DC Super Heroes Collectible Minifigures does contain some of the more obscure characters from the DC Universe which is nice to see as they aren't featured in any other set. Each of the minifigures include a black 1×2 jumper plate and a trans-clear posing brick to display them in various action poses.
---
Mister Miracle
He has a very bright outfit that comprises of a red, yellow, and green color scheme. The green cape is made of two pieces and they are the older paper version. The arms and legs are dual molded which helps make his look a good representation to the comics. Mister Miracle is an escape artist so his accessories include some handcuffs as well as a chain that is able to wrap around his body.
---
Wonder Woman
This version of Wonder Woman is from The Golden Age which is from her first appearance. The torso has the iconic golden eagle going across a majority of it. One little detail that she has on her wrists are the metallic silver bracelets. She also has the newer skirt piece that is in blue and covered with stars. The dual molded legs also has some stars printed on as well as printing of her red boots. She does have a double sided head with a happy expression on one side and an angry look on the other. The hair piece has printing of her tiara. Her accessory is her Lasso of Truth.
---
Aquaman
I'm not sure which version of Aquaman this is but he does have the golden harpoon on his left hand. Also on his torso is the metallic silver armor that he has on the right side of his body. The dual molded legs have printing of the dark green scales on his pants. His head shows him with happy and angry expressions. His accessory is a fish.
---
Stargirl
Stargirl is part of the Justice Society of America and she dons a red, white, and blue outfit with a white star on the middle of the torso. There are also some smaller stars going down both arms. Her legs show her with some blue and white shorts along with some boots. Her masked head shows her with happy and cocky expressions. Stargirl's accessory is the Cosmic Staff which consists of a pearl-gold 4L bar and a tras-orange glittery hook. She will have her own show on The CW this spring.
---
Classic Sinestro
This version of Sinestro is from his original appearance where he has a black and blue outfit. The pink skin tone makes the whole look stand out. He has an evil smiling expression on one side of his head and a powered up version from the Yellow Power Ring and Central Power Battery.
---
Cheetah
This version of Cheetah is in her classic outfit with the bright yellow suit with the cheetah spots all over the torso and legs. There is even some printing of her claws on the feet as well. She has a double-sided head with a smirk on one side and an angry expression on the other. Her accessory is a money bag.
---
Superman
We've had a bunch of Superman minifigures from the DC sets but this version of him is in his Rebirth outfit. The look is still similar to before but with some slight changes. The torso has some darker blue at the muscles and the belt has been changed. He double-sided head shows him with a smile on one side and with heat vision eyes on the other. His accessory is a printed 2×2 newspaper tile with the headline "Caped Wonder Stuns City" which is a reference from the 1978 Superman movie.
---
Simon Baz Green Lantern
We've had a few version of Green Lantern before in LEGO form but this version of the character stands out the most differently. The outfit is mostly black with some green and he wears a full mask. The middle of the chest shows the Green Lantern logo prominently in the middle. The legs are dual molded for his boots. His accessories include the Green Power Ring and Power Battery.
---
Teen Titans Cyborg
For Cyborg, this version is from his earlier days of Teen Titans where he has a very silvery look with more exposed chest area. Half of his head is robotic and the helmet piece has the rest of his headgear. His accessory is a purple chain which is a reference of the cover image from Tales of the New Teen Titans #1.
---
Batman 1st Appearance
This version of Batman is from his first appearance from Detective Comics #27. The outfit is mostly gray with a yellow belt and purple gloves. The logo on the chest is different from the one we're used to seeing. The legs are pretty plain but they are dual molded for the boots. The face printing is a bit off which is usually what we get with Batman and it also shows him with googles. The cowl piece has the wider and more elongated ears. His accessories include a blue Batarang and a rope.
---
Huntress
Huntress is one of the new DC characters that we get in LEGO form but in the more recent outfit. She has a black and purple color scheme with a white cross going down the front of the torso. The purple belt fits nicely into the design of the torso and legs. The double-sided head shows her with mask printing on both sides and with a smile on one side and an angry expression on the other. Her accessory is a crossbow.
---
Metamorpho
One of the more obscure characters in this series is Metamorpho. One thing that is unique with him is that all of the parts are different from each other. I don't think I've seen a minifigure like that before. One side of the torso shows him in orange which appears to be a regular state while the other magenta side shows his elastic state complete with the large fist. Additionally, one of the legs is muddy brown and the other is trans-clear.
---
Joker
Like with many of the other DC characters that have already been in previous sets, this iteration of the Joker is from The Dark Knight Rises miniseries. Unlike the previous versions of the character that has bright colors, this Joker is more subdue with the white suit. His white face shows him with a big evil smile. His accessory is a large cotton candy and a printed 1×2 printed card tile.
---
Bumblebee
Another addition to the Teen Titans team from this wave is Bumblebee. Both sides of the torso has printing of the yellow striped shirt. There's also some printing on the wrists for her bangles. The trans-clear wing piece also has some printing on it. The double-sided head shows her with a smirk on one side and an angry look on the other. It also shows her wearing her goggles. Her accessories include some trans-yellow lighting bolt pieces.
---
Jay Garrick Flash
This wave of LEGO DC Collectible Minifigures features a lot of characters in their classic form and the Jay Garrick Flash is no exception. He has on the iconic red outfit and blue outfit with the Flash symbol going down the torso. The legs on the side has printing of the wings. His Hermes' Helmet also has the wings on the side of it. To complete his look, he has a neck bracket to add the lightning bolts to show off his speed.
---
Bat-Mite
The last minifigure for the DC Super Heroes Collectible Minifigures is Bat-Mite. It is an imp and it idolizes Batman, hence that is why is dressed up like him. The suit that he has is the blue and gray version and it has a lightning bolt as the insignia instead of the Batman logo. The cowl has one ear bent down and it is small enough that it shows his front teeth. Taking off the cowl shows his big eyes peering through the back mask. His accessory is a 2×3 printed tile of Detective Comics #27.
---
Results
Overall, the LEGO DC Super Heroes Collectible Minifigures (71026) includes lots of DC characters that are not as well known but also has some of the regulars in new variants. The reactions from the LEGO community have been very mixed mainly because a lot of characters are obscure.
The main criticism about the set isn't the content but the price increase per pack. As $4.99 each, fans aren't willing to go getting every single character but will only get certain ones. Note that Walmart is still selling them at $3.97 each even at the time of this post.
As for the minifigures we do get in this wave, they aren't bad looking at all. Some of them are highly detailed but some are pretty plain but accurate to the source materials.
As noted earlier in this review, there have been many reports that each box includes three complete sets per box. Unfortunately, my box did not included three sets and I got extras of the Joker. It's disappointing because I was looking forward to doing a giveaway for the second complete set. That means I'll have to go find an extra Cyborg before I actually run one.
---
Thank you to LEGO for sending in this set for me to review. The content above represents my own opinion and not the company. Review sets sent in does not guarantee a positive review.
When you make a purchase or, sometimes, carry out some other action as direct result of clicking on a link at The Brick Fan, we will receive a small commission.
The Brick Fan is a participant in the Amazon Services LLC Associates Program, an affiliate advertising program designed to provide a means for sites to earn advertising fees by advertising and linking to Amazon.com. As an Amazon Associate I earn from qualifying purchases.
We partner with Rakuten Advertising, who may collect personal information when you interact with our site. The collection and use of this information is subject to the privacy policy located here: https://rakutenadvertising.com/legal-notices/services-privacy-policy/