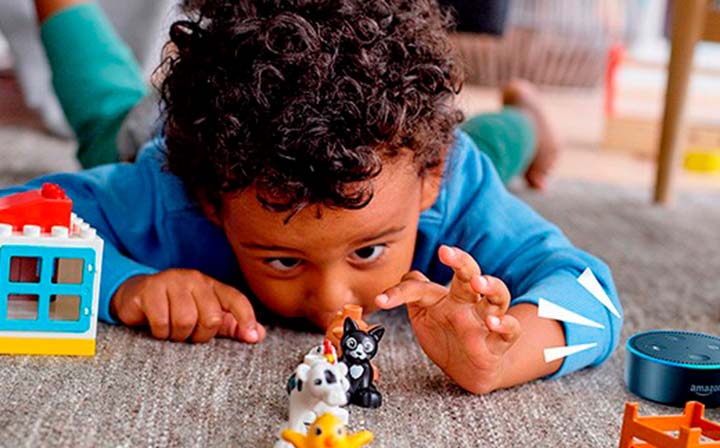 LEGO has partnered up with Amazon in their efforts to integrate physical and digital play by using Amazon Alexa to tell stories while interacting with the bricks. By downloading the LEGO DUPLO stories onto Alexa, you can instruct it to tell the stories while also encouraging kids to learn through the bricks.
Adding to the LEGO® portfolio of integrated physical and digital play experiences, LEGO® DUPLO® Stories has today been released on Amazon Alexa as play starter inspiration for our youngest audience and their parents.

Billund, Denmark (May 2nd, 2018): Launched today in the US and UK, LEGO® DUPLO® Stories will be one of the first Alexa skills to combine physical play with Amazon's Alexa voice service. The skill is developed as an interactive storytelling experience to ignite fun explorative play for the youngest children, aged 2–5, and their parents.

Using any Alexa device, such as Amazon Echo or Echo Dot, children will be able to respond and actively engage with the LEGO DUPLO Stories, all designed to encourage active participation and help nurture children's inquisitive instinct of learning through play. LEGO DUPLO Stories covers 10 themes based on new as well as existing LEGO DUPLO products. Together with their parents, toddlers can choose between five vehicle or five animal stories, and define the route of the story, while guided by Alexa. The different stories will help advance children's constructive, exploratory and roleplay skills with tasks ranging from numeric exercises to colour recognition, articulation practice and creative building challenges.

"Voice services and the Smart Speakers they live on are changing the way we listen to our favourite audio content, shop for products and now how we play together. The new LEGO DUPLO Stories skill is one of the first Alexa skills to bring together physical play with interactive audio content, allowing preschool kids and the adults in their lives to build stories and creations together. Voice is such a powerful tool for play as it is one of the most human ways of interacting. Long before we can type, read or control a device, we listen and speak." James Poulter, Head of Emerging Platforms & Partnerships, the LEGO Group.

Building stories and memories through active play

Play is one of the best ways to create and connect with toddlers, and LEGO DUPLO offers countless opportunities for this with key focus always being on active play using LEGO DUPLO bricks. To provide the most relevant and exciting play inspiration to our fans, we constantly look at how technology can help extend and add new dimensions to LEGO physical building experience.

As we look to advance our digital integration with more fun features in the pipeline, LEGO DUPLO Stories is a strong example of how we believe technology can help jumpstart children's physical creative play that encourages active participation, including parent interaction, which is important for children's further development particularly in the early years.

"Children do not differentiate between physical and digital play. To them it is just play. Bringing audio into the equation, as with LEGO DUPLO Stories, is just another way for children to augment and extend their play experience. For adults, however, we see this as a strong opportunity to provide fresh play starter inspiration, which we know they look for. Collaborating with Amazon for an Alexa skill is hence a direct response to the input we get from parents, and we truly look forward to receiving their feedback on this new Alexa skill." James Poulter, Head of Emerging Platforms & Partnerships, the LEGO Group.

For a recap of the learnings and storylines available see below, and learn more about how LEGO DUPLO Stories works here: www.lego.com/alexa-skills.

More information:
E-mail: [email protected]

Learnings available from LEGO® DUPLO® Stories

The Truck Story
The big truck is happy because it gets to work at the brand new construction site in town. The work includes building a house and knocking it down again, only to build an even bigger house.

Learning: Language and motor skills, follow instructions, build and rebuild

The Plane Story
The plane is going on vacation. It can go to a warm or a cold place and needs to pack for the right temperatures. It will only takeoff and head to its special destination once a snack has been prepared.

Learning: Language and motor skills, role-play, building.

The Car Story
The Car Story can be about a race car or a repair shop. The former focuses on how to tune your car for a race and the latter challenges your mechanic competences when a friends' car breaks down and you have to fix it.

Learning: Cognitive and motor skills, problem-solving, colors (red light, green light).

The Boat Story
The Boat Story can be about a fishing trip or a journey. On the fishing trip you must catch fish with your net and on the journey, you will have to pack for mixed climates and discuss the animals you see on your travels.

Learning: Language and motor skills, problem-solving, roleplay.

The Train Story
The train is ready to start the day but needs refueling before it can leave the station. Help by building a fuel pump. The train starts its journey but must suddenly stop when an animal is about to cross the tracks.

Learning: Language skills, animal sounds, colors, instructions.

The Rabbit Story
The rabbit meets his/her new family of pets (dog, bird, and cat) and despite their differences they bond through play and by exploring each other's interests, such as favourite food.

Learning: Social skills and role play, exploring differences and concept of friendship.

The Cow Story
The farmer has gone to town for the afternoon, and the cow and the roaster can play however they want. So, the cow wants to drive the tractor and the roaster wants to take a bath in the water trough.

Learning: Social and cognitive skills, roleplay, imagination, animal sounds, identifying characters.

The Cat Story
This story can go two ways depending on what you prefer. It can be a story about a family cat or a farm cat; the former wanting to be pampered and the latter wanting to build a fortress from hay bales for its friends.

Learning: Language skills, colors, roleplay, imagination, animal sounds.

The Bird Story
The bird loves to go on adventures, but really needs a place to live. When the bird house has been built it can go on adventures and fly around until it lands on a special spot. The spot is a great place for a playground.

Learning: Language skills, colors, motor skills.

The Dog Story
The dog just woke up and is eager to start playing. It starts jumping around and is trying to figure out if it should go for a walk, play fetch, chase a cat or do tricks.

Learning: Language skills, focusing on different activities, roleplay, choose directions, motor skills.
When you make a purchase or, sometimes, carry out some other action as direct result of clicking on a link at The Brick Fan, we will receive a small commission.
The Brick Fan is a participant in the Amazon Services LLC Associates Program, an affiliate advertising program designed to provide a means for sites to earn advertising fees by advertising and linking to Amazon.com. As an Amazon Associate I earn from qualifying purchases.
We partner with Rakuten Advertising, who may collect personal information when you interact with our site. The collection and use of this information is subject to the privacy policy located here: https://rakutenadvertising.com/legal-notices/services-privacy-policy/