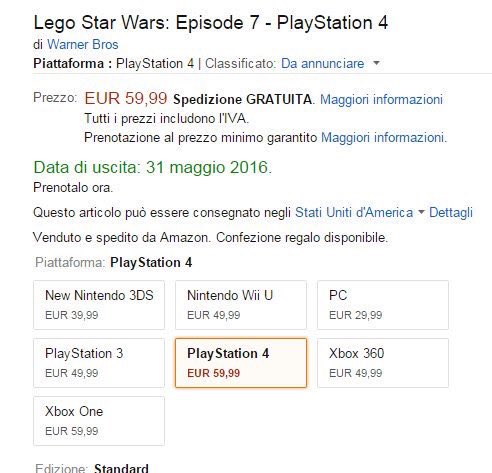 Back in October, there was an image of a LEGO Star Wars Finn (30605) polybag that showed up online. Many people noticed that there was a code on the bottom left corner of the packaging which may suggest that it'll be included with a video game as they usually are.
It looks like Twitter user Shinobi602 has found an Amazon Italy listing of a LEGO Star Wars: Episode 7 video game for the PlayStation 4. It also lists the release date is May 31, 2016 which could just be a placeholder and the listing mentions that some of the playable characters include Rey, Finn, Poe, BB-8, Kylo Ren, and Han Solo.
Shinobi602 also mention there will be a Warner Bros. Interactive Entertainment announcement tomorrow for the game as well so we'll see if WB sends over a press release in the morning.