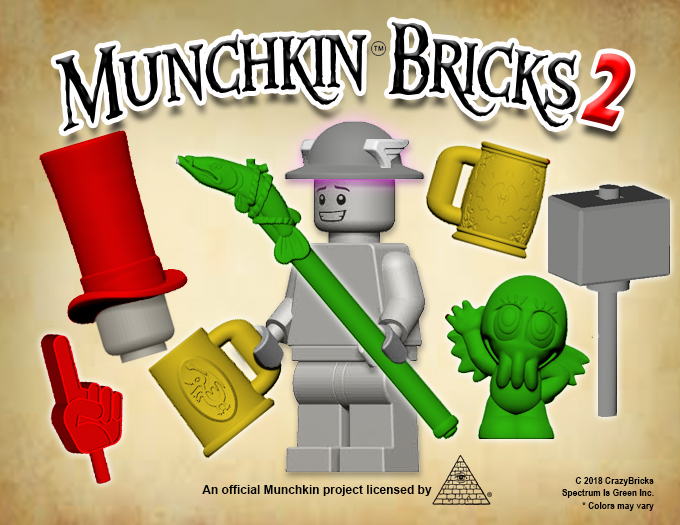 Way back in 2014, CrazyBricks launched a KickStarter for the highly successful Munchkin Bricks project and they are now back with Munchkin Bricks 2. If you're not familiar with Munchkin, it is a card game which is pretty popular among enthusiasts and CrazyBricks has made some accessory pieces from the game. Some of these accessories include:
1. Helm of Super Speed – from Super MUNCHKIN
2. Spyke's Hammer – from Classic MUNCHKIN
3. Hammer Handle – a stout and noble handle suited for such a powerful Mallet
4. Foam Rubber Hand – from Super MUNCHKIN
5. Gear Beer – from MUNCHKIN Steampunk
6. Shakespeare's Pike – from MUNCHKIN Shakespeare
7. Dragon Flagon – from MUNCHKIN Dragons
8. Hello Chibithulhu – from MUNCHKIN Cthulhu – So CUTE!
9. E.L.T.H. / Excessively Large Top Hat – from The Good the Bad and the MUNCHKIN
There are also a number of stretch goals to unlock as the project reaches a certain threshold of supporters. As of this writing, it is about 80% funded with 14 days to go on the KickStarter.
MUNCHKIN BRICKS 2
OFFICIAL PRESS RELEASE
JULY 2019
Project is LIVE

CrazyBricks is excited to announce the launch of Munchkin Bricks 2, our latest Kickstarter project!

We're offering even more Munchkin-inspired custom accessories for your favorite miniature figures, like the Excessively Large Top Hat, Chibithulhu, Spyke's Hammer, delectable flagons and tankards, and Shakespeare's Pike, as well as an exclusive Munchkin card and a bookmark included with every pledge!

We are proud to be partnering again with Steve
…
Continue