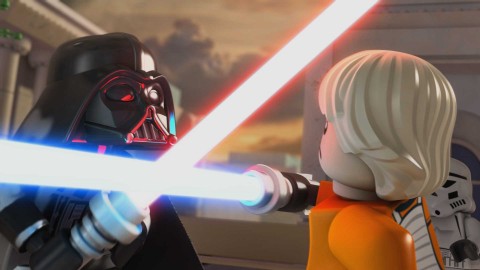 Over on StarWars.com, you can watch a trailer of a new TV special premiering on Cartoon Network called LEGO Star Wars: The Empire Strikes Out. TVGuide.com has the following description of the show:
New celebrity Luke begins a secret mission but is thwarted by his fans; Darth Vader clashes with Darth Maul.
This will be the second LEGO Star Wars cartoon to air on Cartoon Network with LEGO Star Wars: The Padawan Menace airing last summer and it ended up being the #1 show of the week. The Empire Strikes Out will air Wednesday, September 26 at 8:00 p.m. ET/PT and repeat throughout the weekend.
Get your lightsabers ready because a brand new LEGO Star Wars special is coming to Cartoon Network. Your favorites are back and even though it's just moments after the Death Star has exploded, Luke, Leia, Han, Chewbacca and the rest of the Rebel Alliance's heroes have no time to rest on their laurels.