During the whole month of October, when you purchase over $99 or more at LEGO Stores and on [email protected]
, you are eligible for the first of two FREE exclusive holiday sets for 2014, the LEGO Creator Toy Workshop (40106). The contents of the box include three un-numbered bags, one white 6×8 plate, one nougat 6×8 plate, and a small instructions booklet.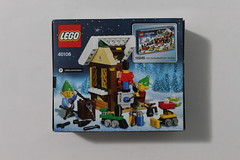 For the minifigures, you have a male and a female elf. For the male elf, the torso is a dark red flannel shirt and it has in a couple of LEGO City sets before. The dark tans legs that are used are from Bilbo Baggins and many others. He has a smiling expression and the elf ears and green hat piece is the same ones that we've seen on other elves.
The female elf is also a combination of parts that we've seen before. The blue sweater with purple scarf torso has been used in a couple of older Winter Village sets as well as the 2012 Holiday Set. The legs are short light bluish grey. She has a double-sided face with a smile on one side and a scard look on the other. Again, the elf ears are the same as the male elf. She also has a paintbrush as an accessory.
For the set itself, you have a small toy workshop as well as some already assembled toys including a yellow bulldozer, a green steam engine train, a soldier nutcracker, and a couple of presents.
The toy workshop is a … Continue