Just like that, San Diego Comic Con 2023 is now over but here's a recap of the LEGO happenings during the four days. First off is the LEGO booth itself which they have named it LEGO Brickbuster Video. This is a play on the old Blockbuster Video stores. Throughout the store, there were displays of upcoming LEGO sets from various themes. On the shelves were VHS cassette cases featuring movies and themes in LEGO form.
The back wall named New Releases was filled with creations from fans. Some of the themes for the builds were unplanned and spontaneous such as the Spongebob ones and Pikachu ones. I was told that fans took inspiration from the builds that were already on the shelves and they made their own version.
There were also brick-build statues that fans could take pictures with. The builds were made to look like the old 2D cardboard cutouts that you could find at Blockbuster stores. Fans could take pictures with them and share to social media to get corresponding pins of them. The ones for this year were Captain America, Sonic the Hedgehog, and a speeder bike from Star Wars.
There was a Coming Attractions billboard showing some of the current and upcoming LEGO shows and specials. Some of the new shows coming soon include LEGO Masters: Holiday Bricktacular, LEGO Marvel Avengers: Code Red, LEGO Star Wars: Mandoween – Celebrate the Season, LEGO Masters: Season 4, LEGO Disney Princess: The Castle Quest, and one confidential show that they never revealed. Any guesses on what it is?
For the giveaways, we've already reported it which was the scavenger hunt for a prize pack. The prizes include LEGO Master (6385893) set as well as a gold/yellow keychain and the exclusive pin set. There was also the LEGO Ninjago: Dragons Rising Riyu (6484261) that was given out during the talent signings.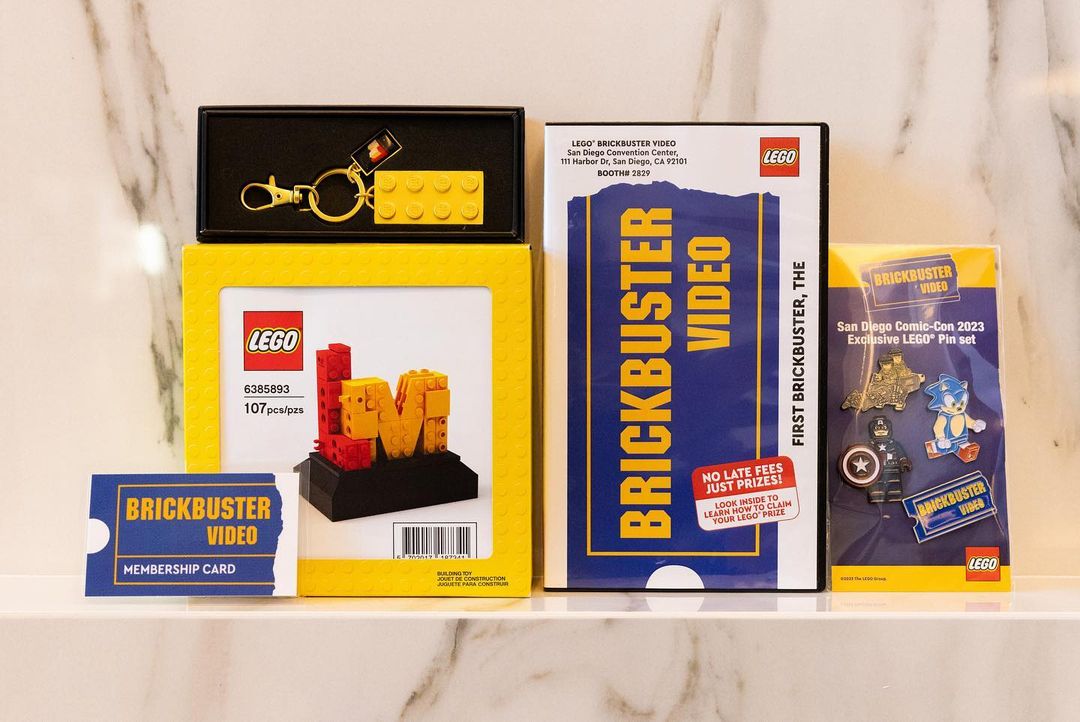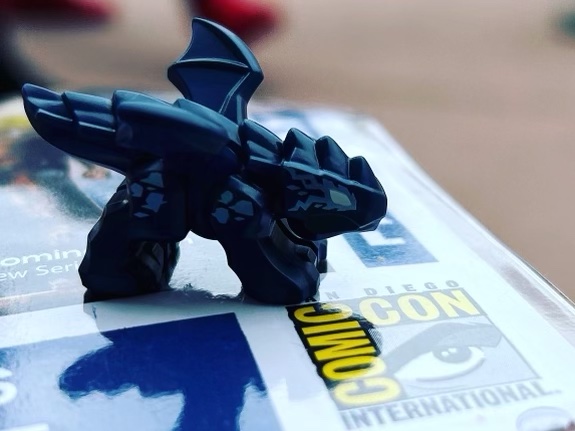 Lastly, there was the Minifigure Maker which was good and bad. There was an exclusive torso to get if you were able to sign up to do it. The website to sign up for it was horrendous with the crashing and overload errors. The rep there did mention that they opened up more slots but that didn't help much as we still got the errors throughout the event.
The Minifigure Maker had three trays for you to choose your parts, nine hair choices, five head choices, and five leg choices. The torso was handed to you and it was printed on a blue torso with the words Be Kind, Rewind with a VHS tape. This was the phrase back then you should be nice and rewind the tape for the next people to rent the video.
---
For the LEGO: I Had a DREAMZzz Last Night About Ninjago! panel, it was a dual one featuring Ninjago and DREAMZzz. The voice talent from both shows were on hand to talk about their experiences with the shows.
For the Ninjago panel, some of the details include the second ten episodes of season one will be airing on October 12 with season two coming in 2024. Writers Doc Wyatt and Kevin Burke mentioned that season one was a fine line to walk as they had to move the show forward without ignoring what has previously happened for Ninjago. They also said that they want to revisit some older stuff as well as stuff they don't want to show ever again. There was an "exclusive" trailer shown which will be on YouTube in the near future. I don't remember exactly what happened in the trailer but here are some images that we got of them secretly but I've blurred and jigsawed them. Good luck trying to figure them out.
For the DREAMZzz half of the panel, again we had the voice actors talk about their experiences and what they liked on the show. There was also some concept art shown for Mrs. Castillo's Turtle Van (71456) which went through an extensive test to see the best options for the final product. DREAMZzz also had an "exclusive" trailer which will most likely be on YouTube as well.
For the Q&A's, there were some good questions. One is will we see more cameos of older characters for Ninjago? Doc and Kevin responded with we may see some old friends again. Another question was about Wyldfyre's elemental powers which will be a mystery until the season returns in October. Same thing with Ras and if he's from the Legends of Chima.
---
On to the Project K panel which we were told would have some LEGO connection. Unfortunately, there was absolutely no mentioning of LEGO anywhere in the panel. The movie title was revealed to be Kalki 2898 AD and the panel talked about Indian cinema history with some of the actors. The trailer was very sci-fi and interesting but I'm still bummed that I was lured in with LEGO but didn't have any of that.
---
Lastly, we had the LEGO Masters panel but unfortunately, we were not able to get in because the room was filled up very quickly. I'm guessing whoever planned the room way underestimated the number of people who wanted to attend. They opted to choose the 400 capacity room instead of the 2,000 one which would have probably filled up too.
Fortunately, our friends from Beyond the Brick gave us the lowdown on what happened during the panel. LEGO Masters judge Amy Corbett was on hand to talk about what goes on in the show. They discussed the process for creating new challenges for the builders. They also announced that LEGO Masters is now in 17 countries and has also wanted to do a kids version of the show but FOX has so far said no on that ideas. There were 7.5 pieces used in season 4 between the brick pit and the models.
There will be an episode promoting a LEGO 2K game. It will feature the largest model for the show but there wasn't any details except that it was a terrain from the game.
Lastly, they mentioned the LEGO Masters: Holiday Bricktacular which will most likely air in November or December.
---
Overall, 2023 for LEGO at San Diego Comic Con was pretty decent. I really like how they hit the nostalgia factor at the booth with the Blockbuster Video setting. Other companies like Funko also did something similar.
The panels were hit and miss for me. I really like the Ninjago/DREAMZzz one and the engagement that we got from Twitter during it. Project K was a total fail for me, LEGO-wise. It was an interesting panel but to get lured in with LEGO but didn't mention LEGO wasn't a good look. The LEGO Masters panel was good and bad. The information from it was nice but to not be able to even get in to see it was bad. The amount of people turned away disappointed should definitely be noted from FOX or LEGO. I got there at least 30-45 minutes early thinking I would get in but was turned away right as I got to the very front.
There was no traditional LEGO minifigure giveaways or exclusive sets to buy which was good and bad. Good because it freed up a lot of time to do other things and people who weren't able to attend SDCC wouldn't have felt too left out because they couldn't get something. It's also bad because we're just so used to having them and the adrenaline rush to get in line for a chance to win something and to have it in your hands. It's a different feeling that you wouldn't understand if you haven't done it before.
When you make a purchase or, sometimes, carry out some other action as direct result of clicking on a link at The Brick Fan, we will receive a small commission.
The Brick Fan is a participant in the Amazon Services LLC Associates Program, an affiliate advertising program designed to provide a means for sites to earn advertising fees by advertising and linking to Amazon.com. As an Amazon Associate I earn from qualifying purchases.
We partner with Rakuten Advertising, who may collect personal information when you interact with our site. The collection and use of this information is subject to the privacy policy located here: https://rakutenadvertising.com/legal-notices/services-privacy-policy/