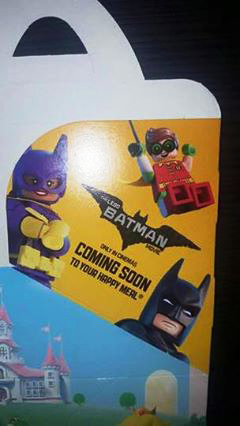 It looks like LEGO and McDonald's will be teaming up again this year for some toys for The LEGO Batman Movie. I've been sent the above image showing a part of a Happy Meal box which shows there will be some sort of promotion for the movie next month but doesn't say what it will be.
If you remember from 2014, LEGO did a McDonald's promotion for The LEGO Movie with some Action Cups. Hopefully we get something similar or better for The LEGO Batman Movie. I'm sure fans would want some actual LEGO but that hasn't happened for a long time.
If anyone knows the source of the image, please let me know and I'll give proper credit.
Update: We now have our first look at the toys. Check them out here.