LEGO has just released a new retro set that pays homage to the LEGO Castle theme with the Classic Knights Minifigure (5004419) set. It contains 47 pieces and it is currently free with purchases of $50 or more at LEGO Brand Stores and on [email protected]
.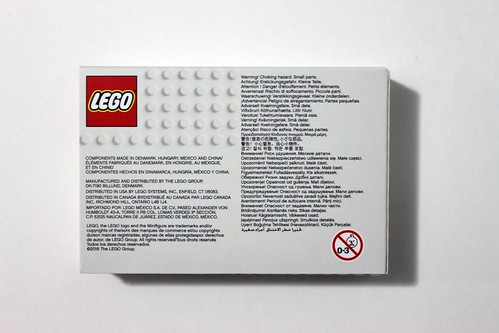 Box
Like with the previous retro set promotions, the box is made of a matte-like material that is soft on the hands. On the sides, you have the classic LEGO System logo and the year of the set that shows 2016.
instruc

The box slides out from the side to reveal a variety of items including a sealable bag of parts, the instruction booklet, and a postcard.
The front of the postcard shows some of the Castle knights that have released by LEGO up to the new Nexo Knights theme which are actually stickers. The back has your standard postcard layout with the Crusaders emblem where the stamp goes.
Instruction Booklet
The first half of the instruction booklet gives you the steps on how to create the ballista. The second half of the booklet is a timeline of some of the Castle sets that LEGO has produced starting off with the iconic Castle (375). At the end of the booklet, it shows a lineup of some of the Knight minifigures that have been released through the years.
Minifigure
The Classic Knights Minifigure set comes with one minifigure which is a Crusader Knight. He has the red torso with the Crusaders emblem in the middle of the chest just like the ones in the classic Castle sets. He has some gray legs along with a gray helmet as well. His accessories include a long axe and a shield with the Crusaders emblem.
Build
The build for the Classic Knights set is a small ballista that is pretty much an updated version of the 1986 Siege Cart (6012) which is shown on the timeline. In the front, there are a couple of large wooden wheels to steady the weapon with a large arrow on top. Much like its predecessor, the sides also have some clips to hold a couple of more arrows.
Results
Overall, the LEGO Classic Knights Minifigure (5004419) is a very nice little promotional set that pays homage to the classic Castle theme. I especially like the little ballista siege cart since I don't have the original set and it also lets kids learn more about some of the classic LEGO Castle sets that we grew up with.
It's another year in the books for these retro-type sets joining the Classic Spaceman Minifigure (5002812) in 2014 and the Classic Pirates Minifigure (5003082) in 2015. Hopefully LEGO continues with another set next year with the classic City/Town minifigure or maybe even the Western theme since that's pretty popular.
Again the LEGO Classic Knights Minifigure (5004419) is available until only July 10 at LEGO Stores and on [email protected] with purchases of $50 or more.
[easyreview title="The Brick Fan Scoring Summary" cat1title="Design" cat1detail=" " cat1rating="55″ cat2title="Playability" cat2detail=" " cat2rating="4.5″ cat3title="Value" cat3detail=" " cat3rating="5″ summary=" "]